7º Encontro (2022)
O 7º Encontro GelAvista realiza-se nos dias 10 e 11 de outubro, no auditório do IPMA, em Algés. A iniciativa procura divulgar o programa que monitoriza, desde 2016, os organismos gelatinosos em toda a costa de Portugal continental, Açores e Madeira, com a ajuda da população.
O Encontro anual GelAvista junta cidadãos interessados nestes organismos, voluntários do programa e cientistas que trabalham nestas temáticas numa vertente mais académica.
Para além da divulgação dos mais recentes dados recolhidos no âmbito deste projeto de ciência cidadã e da participação de oradores convidados, o encontro compreenderá, pela primeira vez, a apresentação de trabalhos científicos de estudantes e investigadores relacionados com a temática.
Os prémios Medusa d'Ouro voltam a distinguir os observadores GelAvista que, de alguma forma, se destacaram dos demais.
O evento é aberto ao público em geral, sendo possível participar no mesmo, presencialmente ou por videoconferência, mediante inscrição.
Para manifestar o seu interesse e confirmar a sua participação, pedimos que preencha um breve formulário de inscrição: https://forms.gle/EibdHfbqsqded95m8
Mais detalhes serão divulgados em breve!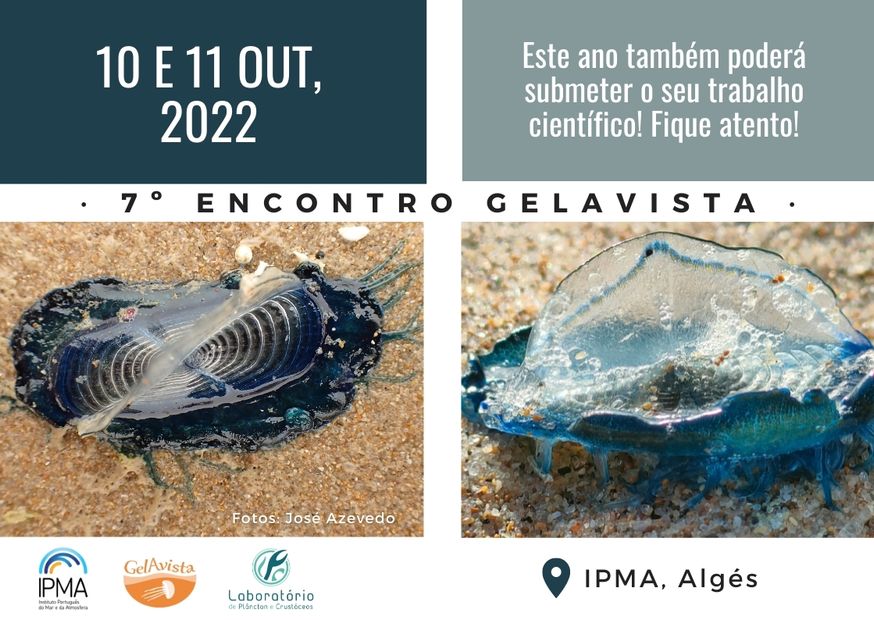 6º Encontro (2021)
O 6º Encontro GelAvista decorreu em formato híbrido (online e presencial) nos dias 11 e 12 de Outubro de 2021.
A componente presencial foi realizada no CIIMAR, por isso a apresentação dos resultados mais recentes do programa GelAvista, centrou-se na região norte de Portugal. Foram ainda apresentados os resultados de um estudo focado na Caravela-portuguesa, desenvolvido por alunas da Universidade do Algarve e Lisboa em colaboração com o GelAvista, no âmbito do programa Sê investigador por 3 semanas do CEAUL (https://bit.ly/3D7KxVN). Ainda fruto das colaborações com o GelAvista, Sonia Gueroun, a trabalhar no projecto GoJelly (https://gojelly.eu/) apresentou o trabalho desenvolvido sobre a medusa-do-Tejo e que inclui dados GelAvista.
Os convidados foram a Doutora Alenka Malej do National Institute of Biology na Eslóvenia que falou sobre as medusas do Mar Adriático no contexto das alterações climáticas e, o fotógrafo de natureza Luís Quinta que revelou algumas das belas imagens que captou de espécies gelatinosas em águas portuguesas.
No dia 12 de Outubro, em formato exclusivamente online, tivemos um workshop sobre a identificação dos organismos gelatinosos mais comuns que ocorrem em Portugal. Como já vem sendo habitual, todos os participantes tiveram a oportunidade de colocar questões e no final do encontro foram atribuídos os prémios Medusa d'Ouro. Este foi o Encontro GelAvista mais participado de todos!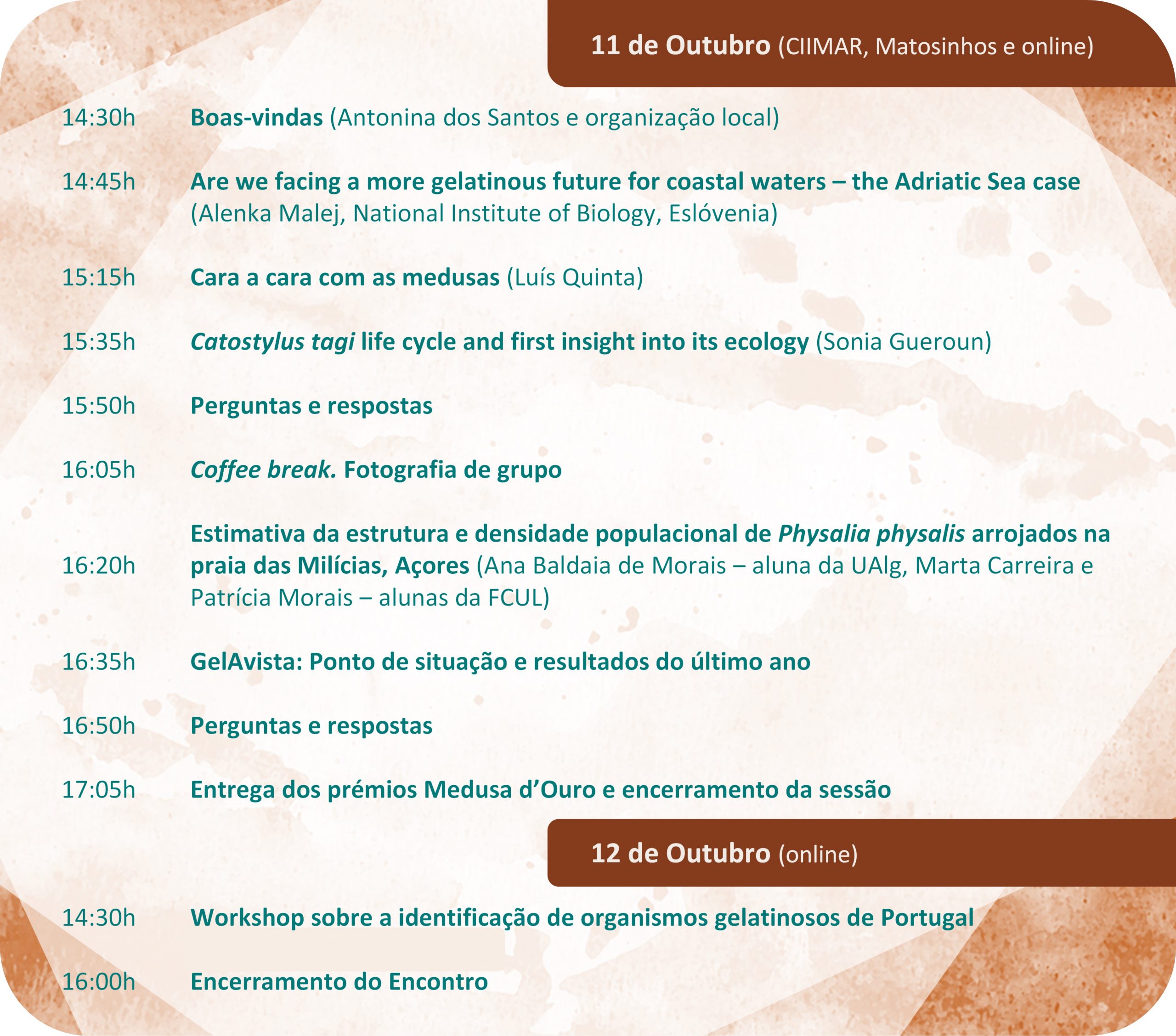 Meeting 2020
The 5th meeting was different, due to the pandemic situation, the meeting was held in webinar mode so that everyone could participate safely. This meeting took place on 16 October at 4 pm in Lisbon (UTC+01:00) via videoconference.
This meeting was scheduled to take place in the Azores archipelago so, as in previous years, it had the participation of guest speakers from the Azores. The theme was Ocean literacy. The conference also had space for all participants to put their questions in writing in the chat. At the end of the meeting, Medusa d'Ouro prizes were awarded, with special attention to observers from the Azores.
Meeting 2019
This 4th meeting brought together observers and scientists in Funchal between the 23rd and 24th of November and had the collaboration of the Funchal Marine Biology Station and the Canadian Embassy in Lisbon. Once again, the meeting began, addressing the GelAvista program and presenting the most recent data on gelatinous species occurring in Portugal.
Followed by presentations by guest speakers: Peter Ross, from Ocean Wise (Canada), who spoke about microplastic pollution in the oceans; Sonia Gueroun, from the GoGelly project, who presented a bibliographic collection on jellyfish in Macaronesia; and Mafalda Freitas (GelAvista Madeira) who presented data on the abundance of jellyfish in the last 5 years for the Madeira archipelago. At the end of the meeting, our observers Álvaro Palricas (Madeira), Associação Predominante Azul (Ericeira lifeguard team) and Catarina Soares (Torres Vedras) received the Medusa d'Ouro award.
Meeting 2018
On December 1st, another annual meeting of the GelAvista program took place, this time in Faro with the collaboration of the University of Algarve and, as always, with the participation of our observers. As usual, the meeting began with a presentation of the GelAvista program, explaining what it consists of and its objectives, making known the information collected so far and addressing good observational practices.
It also had the participation of 3 guest speakers: Alexandra Teodósio (UAlg), who explained the importance of jellyfish in marine ecosystems; Rita Domingues (UAlg), exhibited on what will motivate citizens to participate in citizen science projects and Mafalda Freitas (GelAvista Madeira), presented the results of 5 years of monitoring of Pelagia noctiluca in the Madeira archipelago. At the end, the Medusa d'Ouro was presented: to the observer from Algarve, Rui Filipe and Guilherme Santos from Costa da Caparica.
Meeting 2017
On December 16th, the 2nd GelAvista meeting took place at IPMA Algés. Once again, we had the opportunity to share with our observers the results obtained so far, as well as some of the work that has been developed as a result of this program. It was with great pleasure that we had the presence of several of our observers, guest Ana Pereira from Ispa Instituto Universitário, 3 Golden Medusas and a special four-legged observer, Ponga.
Many thanks to everyone who joined us for this meeting, and to all those who contribute to this program!